Virtually everything we do requires us to hunch forward – typing, cooking, driving, etc. When we slouch, our chest muscles shorten, our back muscles weaken, and our abdominal muscles grow slack. This muscle shortening is a cause of a wide range of uncomfortable symptoms. Fortunately, however, being mindful of our posture can prevent back pain, help us feel better, and even assist in projecting more confidence.
We hear a lot about "core" strength, but what exactly is the core? Put simply, it is the series of abdominal and lower back muscles that connect to your spine and pelvis. These muscles are involved in virtually every movement we perform, but like any other muscle group they can become unbalanced from lack of consistent use. Imbalances in strength and use can cause them to grow fatigued, get overstressed, and wither over time.
In order to improve posture, we must strengthen our core muscles through consistent, periodic training, without overdoing it. Finding routines which use resistant bands or dumbbells can be a great way to improve strength and flexibility but it's important to realize the differences between resistance bands and dumbbells before incorporating them into your fitness routine.
Having the right routine to strengthen your core will assist in reversing the feeling of "tight" muscles, strengthen little-used muscles that have atrophied through lack of use, and keep consistently-used muscles from growing fatigued.
Try the following simple exercises on alternating days with one day off in-between. You may feel a bit sore on the first few days, but being consistent with this quick and easy routine will improve your posture and fortify your core and back muscles.
Core Exercises:
Lying Leg Raises
Lie down on your back with your legs straight. Put your hands by your sides or under your glutes with palms facing down (to support the lower back). Press your lower back to the floor as you lift your legs off the ground until they make a 90-degree angle from the floor. Slowly lower your legs back down towards the ground.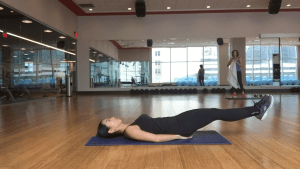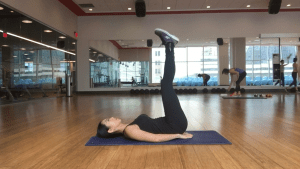 Curl Up/Crunches
Lie down on your back with your knees bent and feet flat on the ground. Put your hands across your chest or pointing forward by your sides. Keep your lower back pressed to the floor, slowly roll your head, shoulders, and upper back off the ground. With control, slowly roll back down.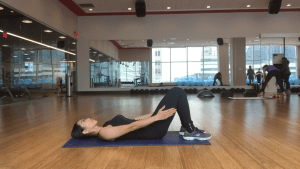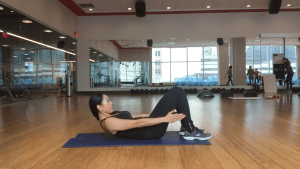 Plank
Start with your elbows on the ground with palms facing down and fingers facing forward. Make sure that your shoulders are right above your elbows, and they are away from your ears (no shrugging). Your toes should be tucked under towards your shins. Keep your core tight and leg rigid. Try squeezing your thigh and glute muscles. Hold in this position for as long as you're comfortable. You should not be feeling your lower back.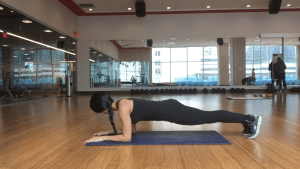 Back-Focused Exercises:
Superman:
Lie down on your stomach with your arms out overhead and your legs straight behind you. Lift your arms and legs off the ground simultaneously as you contract your back and glute muscles. Keep the motion slow and controlled. Your neck, head, and spine should be aligned. Slowly lower your arms and legs back down on the ground.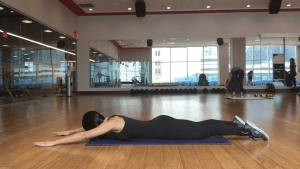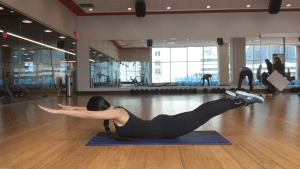 Shoulder Blade Pinch:
Stand or sit with your shoulders back, down, and relaxed. Squeeze your shoulder blades together as you open up your chest. Hold the pinch for 10 seconds.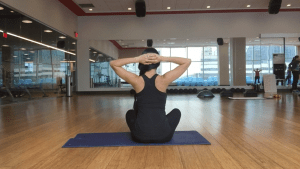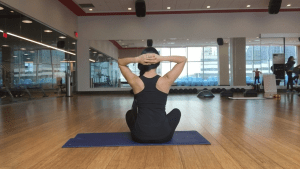 Cobra Back Extension:
Lie on your stomach with your hands by your shoulders. Straighten your arms as you contract your back muscles in a back bend. Hold this pose for a second before slowly lowering back down.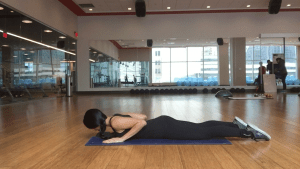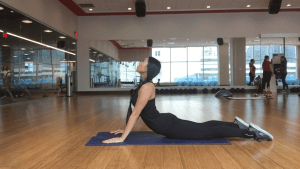 Trainer's Tips:
Pull ab muscles in and up toward your spine – try not to use your hips to move your lower core.
Use slow, controlled movements—don't jerk your body through the movement.
Breathe evenly throughout the movement—don't hold your breath.
Stop doing any activity that causes pain or makes pain worse!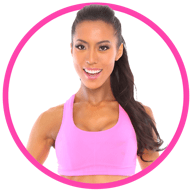 Blog by Guest Author:  Sally Leung – a fitness coach, certified personal trainer, fitness instructor, and nutrition and wellness specialist who is committed to helping others live their healthiest lives. She is also the host of Get Fit, Get Strong on Rogers TV and the creator of her signature program – The Bikini Body Method. Sally believes in sustainable changes, and she is passionate about helping everyone discover how to permanently improve their lives. For workout ideas, fitness tips, and recipes, check out her website www.SallyLeungFitness.com and follow her on social media: www.Facebook.com/SallyLeungFitness and www.Instagram.com/SallyLeungFitness
Jo-Anne Richardson has almost a decade of experience managing a chiropractic office and educating patients on how chiropractic can allow your body to express optimal health. She is a Registered Holistic Nutritionist and holds a Degree in Communications. She loves to experiment with raw vegan recipes, loves to salsa dance, travel and learn new holistic health information to share tips with everyone who visits the office.