Top 7 Natural Solutions to Headaches and Migraines E-Report
[Instant Download]
If you're looking for natural migraine relief then you've come to the right place.  We've included our list and with detailed explanations in this special FREE E-REPORT.  You'll find tons of useful tips that you can start implementing today to help find relief.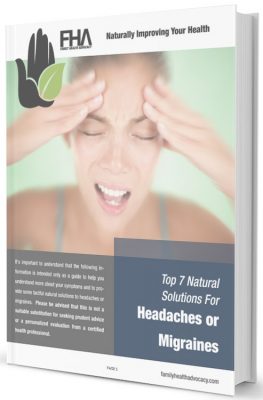 FREE REPORT Packed with Self-Help Guidance for Natural Migraine Relief
In addition to a detailed explanation of each remedy you learn how to live healthy and:
pain free
taking no medication
enjoying all the activities you love
without wasting your time or money
Here's what you need to do next…. if you want the FREE REPORT then simply enter your first name and email address below and you'll receive an e-mail with the download link.
You'll also get FREE access to Family Health Advocacy's natural family health newsletter, VIP access to upcoming events and other special bonuses.  You may unsubscribe anytime and your email privacy is guaranteed. ?
Have you tried natural migraine relief methods before?
If you suffer from headaches or migraines, you know the unbearable pain, crushing pressure and overall interruption to your day that these problems can cause.  We know that headaches or migraines can cause people to be miserable or irritable and even family or friends find it hard to truly understand what is going on.  This can be a major challenge when trying to perform at work and even at home with your spouse or kids.  The real frustrating part is that we hear from people who have tried every doctor and specialist under the sun and have had MRI's and CT's scans only to be told that the results are normal.  And the worst is when you're told that they just have to live it.
Not interested to download our report?  No problem. Maybe later.  Headaches can be related to heightened inflammatory processes in the body so for now you can check out our article on The Amazing Health Benefits of Turmeric.
Or here is another credible website that explains different options for headache home remedies.