During my 20 years of practicing Energy Healing I have found one Universal Truth: PAIN means "Pay Attention Inwards Now"
Pain stems from unresolved and unacknowledged repression of emotions. E-motions mean energy in motion. If energy is repressed then dis-ease and pain results. We label these pains Arthritis, Allergies, Anxiety, Angina, Headaches, Migraines, Frozen shoulder, Fibromyalgia, Cancer, Carpal Tunnel… the list is endless.
Pain is just information. Neither negative nor positive, pain is just ongoing feedback, "an indication of our current energetic vibration". Or an indication of parts of our body that are not in sync with our total energetic vibration.
PAIN lets us know that we have something to discover and resolve. Stressful thoughts, limiting beliefs, worrisome stories replaying in our unconscious mind… these are reflected in your body. Often we inherit them from our ancestors, other times we pick them up from the energy around us, our environment, our media, our families and circumstances. When communication within the body cells is disrupted, we blow fuses, set up handicaps, and our perfect blueprint is derailed.
Your BODY is  your GPS, or rather it has the key to an effective built-in Human Guidance System that unlocks these hidden blocks preventing our mind and soul to communicate effectively. When we experience emotions that don't feel good, it simply means that we are not in-line with our 'true' or 'higher' self. Our spirit is the part of us that lives at the top of the Guidance Scale in joy, love and self empowerment.
This is where we embrace the basic spiritual truths that:
We are worthy, deserving, loveable, loving, brilliant eternal BE-ings
and each of us is an important significant part of the Divine plan
we have a miraculous perpetually healing organism we call a body.
Knowing this truth, is not the same as embodying it. I love witnessing my clients RECLAIM their health and life after sessions. I love doing demonstrations and talks (group healings) at corporations and watching employees have ah-ha moments.
Helping people Reclaim their healthy body, by Refreshing their Mind, and Renewing their Spirit keeps me in my energy vibration of truth, joy and awe. We can all attain Complete BE-ing Clarity, if we listen to our body. Are you listening? What is your body saying to you?
The really fascinating truth is that all of this can be reversed and healed. Energy consciousness work is quick, easy and fun, you don't need to rehash the past, get stuck in the story, or stay in the pain. If you are in pain, explore energy healing … Reiki, BodyTalk, Psych-K, Acupuncture, and other modalities. You will be amazed at the quick results, and love your new found understanding of your Self and your energetic vibration.
__________________________________
Blog by Guest Author: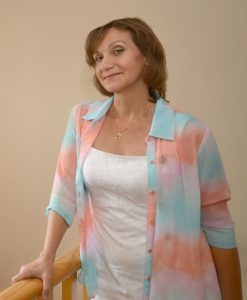 Jessy Morrison
Jessy Morison  has tremendous success in helping those to whom doctors have given no hope of recovery at all to Reclaim their Life, Refresh their Mind, Reclaim their Body, and Renew their Spirit.
A Reiki Master Teacher, BodyTalk & EFT Practitioner, Soul Genesis Facilitator, Founding Member of the Ontario BodyTalk Assoc., and Founding Member of The Whole Life Learning Collective, and Transformational Tuesdays, Jessy is also a  contributing author to "The Joy of an Ex", Women With Vision Magazine, and Another View Magazine.
You can contact her at
[email protected]
705-241-8680
www.jessymorrison.ca
Jo-Anne Richardson has almost a decade of experience managing a chiropractic office and educating patients on how chiropractic can allow your body to express optimal health. She is a Registered Holistic Nutritionist and holds a Degree in Communications. She loves to experiment with raw vegan recipes, loves to salsa dance, travel and learn new holistic health information to share tips with everyone who visits the office.