Getting your kids to eat their vegetables can be one of the greatest daily struggles for parents.  Building healthy eating habits takes a lot of effort for parents to sometimes battle it out with their children.
Start Small & Tackle One Meal At A Time
First, start off with breakfast and work on getting sugary cereals, pastries, and dairy off the menu.  Substitute cereals for oatmeal and fruit.  Pastries for homemade muffins (recipe below), and dairy milk for almond or coconut milk to use in smoothies.
First and foremost, parents need to set the example to their children on how to eat properly.
Children easily pick up on the habits of their parents and will gravitate towards the eating style presented at home.  Take a minute and think about the kind of example you are setting for your children.  Ask yourself the following;
Do you make meal time a priority?  Preparing regular healthy meals as a family?  Or are you picking up takeout on the way home from work because you are exhausted?
What is your attitude towards food and your body image?
What messages are you consciously or unconsciously sending your children?
Encouraging your children to take care of their health is one of the greatest acts of love a parent can give their child.
Mindset around meals and snacks can easily be shifted to a more positive experience.  Involve the family in weekly meal planning and grocery shopping for the ingredients that will be needed for those meals.
Older children and teens can also take part in meal prep by washing vegetables and helping to prepare dinner.  Giving children a voice around their meal choices will help with encouraging healthier eating habits.  Provide your children with a choice of what vegetables they are going to eat each day.  In addition, add one wild card vegetable to the menu each week that they may not like, but are willing to try.
Click here to read, "Are You Eating Enough Colour?"
Tips & Tricks To Add Vegetables To Every Day Meals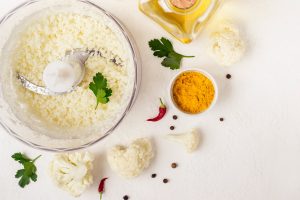 2. Use the food processor to turn cauliflower into the texture of rice.  Sauté the cauliflower "rice" in a tablespoon of olive oil and season to taste.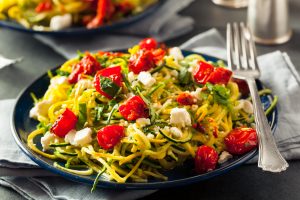 3. Use a spiral slicing tool to turn zucchini into noodles.  It will resemble pasta and can be topped with your favourite sauce and veggies.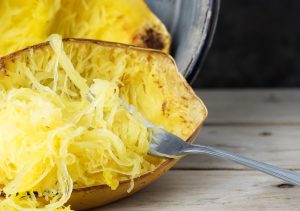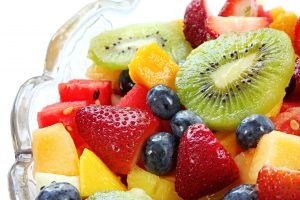 5. Rather than ice cream for dessert, serve a plate of fresh fruit.
Almond-Berry Muffin Recipe
As promised, below is a recipe for healthy muffins that freeze well and are easy to serve as part of a healthy breakfast.
Ingredients:
2 cups raw almonds, ground
2 free-range eggs
1/4 cup coconut oil, melted
1/4 cup pure maple syrup
1 teaspoon vanilla extract
1 teaspoon apple cider vinegar
1/2 teaspoon baking soda
1/4 teaspoon sea salt (optional)
1 cup fresh or frozen berries (raspberries, blueberries)
1/4 cup chocolate chips
12 muffin liners
Directions:
Preheat oven to 350F.
Grind raw almonds until fine.
Mix eggs, coconut oil maple syrup, vanilla and apple cider vinegar in a bowl. Add ground almonds and baking soda. Mix thoroughly.
Fold in berries and sprinkle with chocolate chips.
Evenly distribute batter between 12 muffin cups.
Bake at 350F for 20-25 minutes.
ENJOY!!
Also, try this recipe breakfast muffins. It's another great healthy breakfast idea that you can prepare in advance!
Jo-Anne Richardson has almost a decade of experience managing a chiropractic office and educating patients on how chiropractic can allow your body to express optimal health. She is a Registered Holistic Nutritionist and holds a Degree in Communications. She loves to experiment with raw vegan recipes, loves to salsa dance, travel and learn new holistic health information to share tips with everyone who visits the office.