Bacteria is not always your enemy, in fact when it comes to digestion and gut health, the "good bacteria" is your best friend, so you should treat it as such!
Here's why…
Your digestive system is home to the largest part of your body's immune system and determines what nutrients are absorbed and what toxins, allergens and microbes are kept out. That's why it's so important to pay attention to what goes in there.
Your Gut Health Depends On What You Eat
I know it can be challenging to make conscious choices, considering our modern, fast-paced lifestyles and the abundance of convenient fast foods that are easy to reach for.
The problem is, when we don't take the time to figure out what healthy eating means for us, and plan for healthy meals, we can end up with chronic health issues and diseases that can be directly correlated to what's happening in our gut.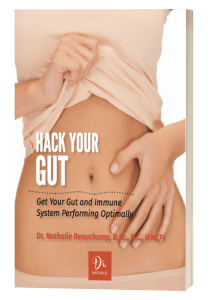 FREE INSTANT ACCESS To Dr. Nathalie's "HACK YOUR GUT" E-Book
This FREE resource is a ? gift from the author of Amazon's best selling book "Hack Your Health Habits".  Get your gut and immune system performing optimally.
Finding The Optimal Gut Bacteria Balance Is Key
Did you know that your body contains around 100 trillion bacteria and that these bacteria make up an estimated 3 -5 pounds of your body weight? Of the 100 trillion bacteria some are "Good and some are "Bad". When these bacterial colonies become out of balance it can lead to what is called gut dysbiosis, which is one of the main causes of digestive health issues. The good news is, small lifestyle changes can go a long way to helping your gut and you feel better.
You have the power to create good health that begins in your gut!
Here Are 6 Simple Ways To Get Started:
1. Eat well. There's really no rocket science to it!
Choose from these prebiotic-rich foods as and example; garlic, onions, asparagus and bananas. Try to avoid processed sugar of any kind. Remember that bad bacteria thrive on sugar, so it's important to avoid the sweet stuff wherever you can. Don't forget about hydration. Your body, your gut and your brain needs a lot of water on a daily basis in order to function well.
2. Boost your food choices! Take a probiotic supplement.
Consider introducing a high-quality probiotic supplement into your daily health routine. This will help improve the health of your gut and your immune system. Probiotics come in a variety of formulations. My recommendation is to look for supplements that are kept refrigerated (or on the shelf but deemed "stable"), originally come from a human source, and contain both acidophilus and bifidobacterial (big words for the good stuff!).
3. Digestive Enzymes
Consider taking digestive enzymes with your meals. Digestive enzymes help your body break down food into nutrients that can easily be absorbed. Besides breaking down food, enzymes can help heal your gut and support your immune system. Lifestyle choices affect our body's ability to produce enzymes. Processed, sugary foods, use of antibiotics, and other prescription medications can contribute to a decrease in digestive enzyme production and can cause a variety of gastrointestinal symptoms.
4. Reduce stress. Beware of your cortisol.
The effect of ongoing stress is literally is like a car going 100 miles an hour with the brake pedal on! That's because our digestion function shut down in order to divert blood to other parts of the body to ward off the threat. This compromises your digestive and immune systems, so you need to do whatever you can to reduce your stress load. For instance, doing some deep breathing exercises is just one way to start putting a buffer in between you and high levels of stress.
5. Get your sleep right. It's essential for good overall health!
Have you ever noticed when you're tired that you're prone to reach for coffee and other stimulants to keep you going? Get some rest! The trick again, is to start with something small like going to bed an hour earlier every night and turning off all electronics before you do. Sleep is truly important to help our bodies reset, recharge and rebalance.
6. Regular Chiropractic Adjustments
Your nervous system controls every function in your body including digestion. Misalignments or subluxations in your spine can compromise digestive function. Reg- ular chiropractic adjustments realign your spine, restore nerve function, and help your body to work optimally
Building a healthy relationship with good gut bacteria also means building a healthy relationship with your entire body. As you can see what we eat, our environment and our physical and mental health all contribute to a healthier better functioning gut! Start today in small ways to make changes, and you'll soon find you really can improve your gut health!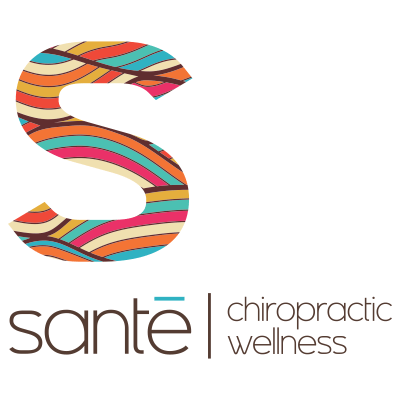 Dr. Nathalie Beauchamp, B.Sc,. D.C.
Dr. Nathalie Beauchamp, B.Sc., D.C. is an Ottawa based chiropractor, a former professional natural figure/bodybuilder, a wellness consultant, lecturer and TV personality. She is the co-author of the published book—Wellness On The Go: Take the Plunge- It's Your Life! and the author of the upcoming book Hack You Health Habits, scheduled to be released in the summer of 2017. She is the owner of Santé Chiropractic and Wellness Centre and the founder of the annual Ottawa Wellness Expo a community based event that gathers over two thousand people in Ottawa each year. Dr. Nathalie's mission is to lead, educate and empower people to be the healthiest and best versions of themselves.