Pumpkin seeds are a fall snack favorite adored by many. But, did you know that pumpkin seeds also have powerful brain health benefits and are integral in healthy brain function? They are rich in many micronutrients that are essential for healthy brain function, including copper, iron, magnesium, and zinc. Their magnesium content provides a calming effect on the brain — an amazing and all-natural option for stress relief.
Keep reading to learn more about how pumpkin seeds help brain function.
Key Minerals and Nutrients in Pumpkin Seeds
A quarter cup of raw pumpkin seeds contains about 150 calories, 15 grams of healthy fat, a few grams of carbs, and 8-10 grams of plant protein. They are also packed with nutrients.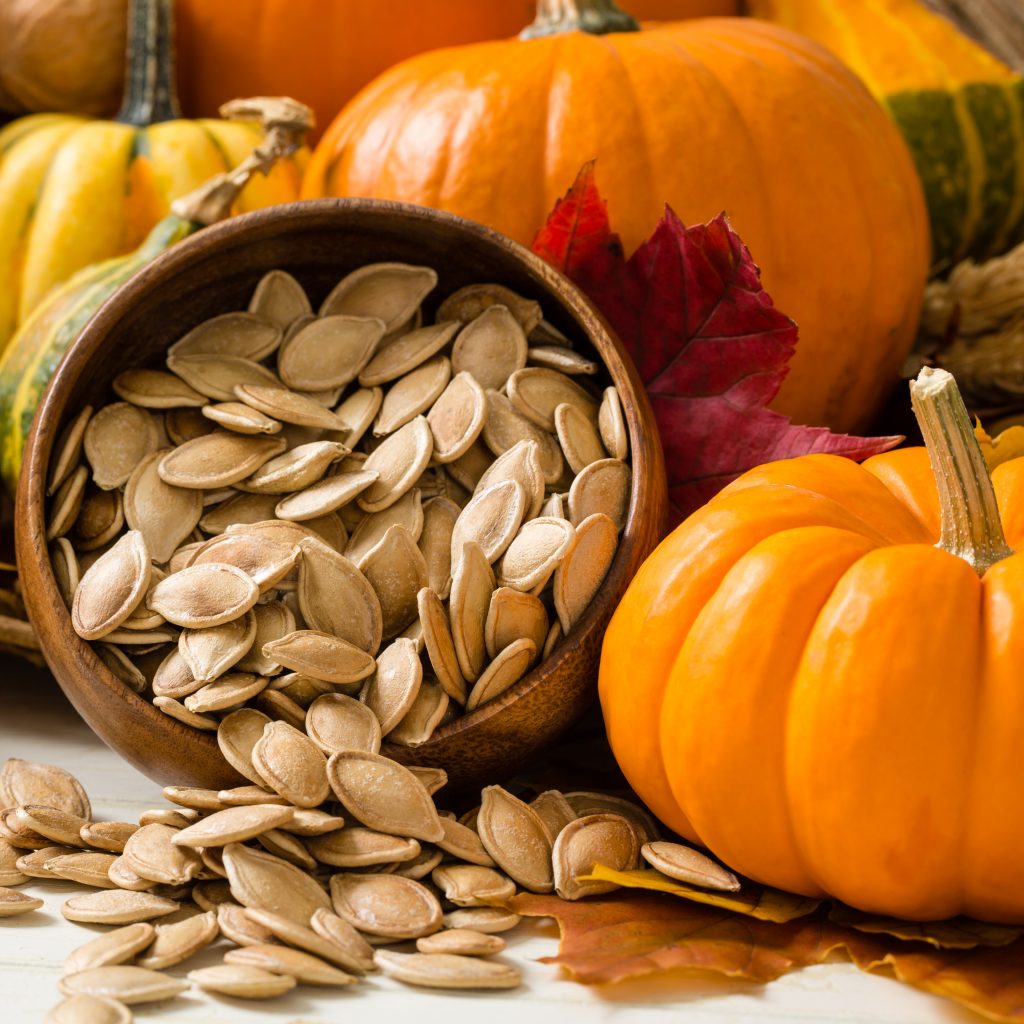 Pumpkin seeds, which are also called pepitas, are an excellent source of manganese, magnesium, iron, zinc, and copper. Magnesium is key to helping improve mood and sleep. Manganese plays a key role in collagen production — promoting bone and skin health. Iron and Cooper found in pumpkin seeds are involved with energy production, whereas iron helps transport oxygen to the cells in the body. Zinc is key for immunity, vision, and skin health.
Eating just one serving of raw pumpkin seeds can supply between 14-42% of the daily target for these essential nutrients.
Pumpkin seeds contain the following key brain health minerals:
Brain Benefits
Some of the most significant brain benefits that pumpkin seeds pack include:
Feelings of calm — The high magnesium content of pumpkin seeds can lead to stress and anxiety relief and an overall sense of calm. Over the past 50 years, as magnesium consumption has plummeted, anxiety rates have gone up drastically. A calm and controlled mind increases your decision-making power and brings you a better sense of clarity.
Feelings of happiness — Pumpkin seeds can also help produce serotonin — the incredible neurotransmitter that helps us feel happy. According to the NCBI, Serotonin is one of the most important neurotransmitters that influence mental health.
How to Eat Pumpkin Seeds
You can buy pumpkin seeds at most grocery stores and health food stores. Or, you can make your own! Simply take the seeds from a pumpkin and bake them at 350 for 30-40 minutes. Here are some simple and delicious ways to incorporate more pumpkin seeds into your diet:
Eat them alone as a snack
Sprinkle them on top of salads for some crunch
Mix them into yogurt and smoothies
Blend them in with protein balls
Sprinkle them on whatever you want for added flavour, crunch, and a brain boost, from oatmeal to cereal and stir-fries and tacos.
Pumpkin seeds are an extremely versatile and delicious snack that packs a serious brain-boosting punch. Try adding them to your meals or snacking on them to harness the brain-boosting powers and ensure healthy and optimal brain function.
As a retired registered massage therapist, I've always been interested in health.  I grew up loving sports so that carried into my adult life in my chosen career paths and in my personal life. I now stay active with weight training, hiking and biking. My professional life has always been in health care. This has inspired me to seek out and adopt a life of natural health and wellness.