Memories are stored in every cell in your body, not just in your brain. Actively or Passively, you choose.
So why does it matter on how memories are stored? What does that mean for you or your loved ones?
Memories are either stored actively or passively in the chemical and hormonal receptors in your cells, tissues, muscles, organs, etc. When a memory is passive we remember the memory as a simple memory trace in the mind and store uncomplicated memory patterns without strong chemical reactions. The stronger or more interesting the memory is the easier it is to recall it. Pleasant scents and aromas, touch, colour, sounds can all contribute to this. Passive memory is a healthy, normal function of the body and the desired situation.
Active memory is a state where we store the memory with an active charge, or stress chemistry and this causes dis-ease!  Acrid disturbing smells (fire, smoke), touch (pain, wounds, trauma), colour and sounds can all contribute to this. Active memory is a normal however unhealthy imbalanced function of the body and the undesired situation.
Active memory occurs when we have not fully synthesized or processed the emotional component of an experience. The subconscious mind holds onto the memory and the body stores the emotion in the fascia (connective tissue), muscles, organs, or other locations in concordance with the bioenergetic nature of the body. For example FEAR is often stored in the ligaments around the knee ~ because fear courage are related to the kidney meridian (which flows behind the knee); or in the lower back (where the kidneys are).
However you are not stuck with this response forever, you are not a victim of this situation, and you can do something about this!! Reading "Feelings buried alive never die" by Karol Truman will give you much insight and awareness to release this yourself, or seeing a practitioner trained in Body TalkTM, Psych-KTM, or EFTTM, or NLPTM can relieve this faster, often instantly!
An example of Passive/Active memory could be this hypothetical scenario:

 
Imagine, my friend and I are driving in a vehicle, and are involved in an accident which causes similar injuries in both of us. i.e broken collar bones, twisted knee, whiplash, crushed ribs… you get the gist so far, eh.  A year later after rehabilitation therapies, and medical care, we meet for coffee at an outdoor cafe. A car squeals by and we both have a reaction. I contract and go into pain response, my neck and shoulders spasm in memory of my accident, I am nearly in panic and have an anxiety attack. But my friend calmly sits there and sarcastically jokes "wow, he must be on his way to his funeral". She notes his recklessness but without pain or contraction. She is calm and pain free. (She has healed emotionally and physically from her injury – lessons learned and processed).
I on the other hand am still in continuous pain, unprocessed Active memory! I respond emotionally and triggered the physical symptoms and will continue to exhibit the echo of dis-comfort until I heal these associations. This does not mean it's all in my head, rather it triggers the memory and all associated feelings which flare up the body chemistry histamine and hormone release and relives and re-traumatizes the body!!! Trust me I speak from experience, I wish I had known about BodyTalk 35 years ago, I could have saved myself 6 years of agony.
Believe it or not, all this can also be triggered by watching a movie or TV show!
Your body doesn't realize the difference between watching Jurassic Park safe on your couch, or living through the fear and drama of all 15 characters in the story being chased and eaten by dinosaurs!!!  There are many kids suffering from PTSD from playing hours of video games.
In my practice the traumatic memories can be cleared without the practitioner needing to know the details of an event. This is not talk therapy, this is energetic and consciousness healing. You can find relief in a totally all natural way, and without pills. Just by having a trained practitioner ask your body what the priority is.
If you have a nagging problem that has persisted for years, consider that a deep buried emotion is asking for release and awareness. Your body talks, it has all the answers you're aching to know. Have you asked and listened lately? Need help? Call Jess to relieve your stress!
__________________________________
Blog by Guest Author: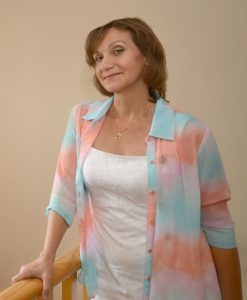 Jessy Morrison
Jessy Morison  has tremendous success in helping those to whom doctors have given no hope of recovery at all to Reclaim their Life, Refresh their Mind, Reclaim their Body, and Renew their Spirit.
A Reiki Master Teacher, BodyTalk & EFT Practitioner, Soul Genesis Facilitator, Founding Member of the Ontario BodyTalk Assoc., and Founding Member of The Whole Life Learning Collective, and Transformational Tuesdays, Jessy is also a  contributing author to "The Joy of an Ex", Women With Vision Magazine, and Another View Magazine.
You can contact her at
[email protected]
705-241-8680
www.jessymorrison.ca
Jo-Anne Richardson has almost a decade of experience managing a chiropractic office and educating patients on how chiropractic can allow your body to express optimal health. She is a Registered Holistic Nutritionist and holds a Degree in Communications. She loves to experiment with raw vegan recipes, loves to salsa dance, travel and learn new holistic health information to share tips with everyone who visits the office.