Hippocrates in 460-377 BC was aware of 'stress'.  So why has it taken so long for 'stress' and mental health issues to finally receive some acknowledgement in OUR time?  Walter Cannon in 1929 confirmed that the stress response is part of a unified body-mind system to take flight or fight. Canadian scientist Hans Selye spent 40 years of his career extending Cannon's concepts and has since made stress a major concept in psychology and medicine today.
Lately, everyone seems to be getting on this 'hot' topic. The media, talk shows, books, research, the Occupational Health & Safety Act, Worker's Safety and Insurance Board, and the list goes on, finally want to talk about stress and mental health issues. What took them so long?
The World Health Organization (WHO) defines Mental Health as, 'The state of well-being in which every individual realizes his or her own potential, can cope with the normal stresses of life, can work productively and fruitfully, and is able to make a contribution to her or his community.'
The Canadian Mental Health Association defines Stress as 'the body's response to a real or perceived threat. That response is meant to get people ready for some kind of action to get them out of danger. But most of the threats people face today aren't something that they can fight or run away from. These threats are usually problems that people have to work through. Stress is a reaction to a situation—it isn't about the actual situation.'
Here are my thoughts about stress and mental health issues:
They are REAL. They EXIST.
Very few understand the IMPACT stress and mental health issues have to one's life, unless you've been there, or know someone that's been there. For those of you who are still sitting on the fence as to whether or not you think this is truly an illness, I would say, 'it's time to wake up'. This illness is affecting 1 out of 4 people daily! People lose their relationships, their jobs, their motivation to live, their clarity, their understanding of self AND finding all that again, takes time, patience and plenty of love and support. It's a long and up hill battle to get your life back, and to eventually find out that your life will never be the same because, THIS stress, mental health issue, changes you, forever.
Have a heart.
If you feel a friend or a loved one is not their self, take the take to listen and extend a helping hand. Suggest natural therapies such as homeopathy, naturopathy, counseling, chiropractic and other modalities to assist them back to health, to work, and to their life again. Slowly, with understanding and guidance, those experiencing stress and mental health issues, will make a recovery to a place of wellness. Until then, direct them to organizations such as the Canadian Mental Health Association or Centre for Addiction and Mental Health, or a psychologist, psychiatrist, social worker or other professional that has an expertise in the field. Together, we can make a difference in someone's life with compassion and genuine interest by acknowledging and honoring the stress they are going through with support and direction to expert care.
__________________________________
Blog by Guest Author: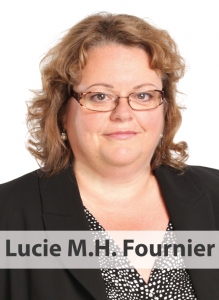 Lucie M.H. Fournier RN, COHN(C), BA (Psych)
Founder/Workplace Health Strategist
With over 30 years of experience in disability management, and a return on investment on average of 1:7, Fournier disAbility & Health provides customized and results oriented services in Absenteeism Management including Attendance, Sick Time/Short, Long Term Disability, and WSIB claims for employers across Ontario.
Expertise in 5 distinct niches of disAbility management include:
1. Complex claims management resolution
2. Mental health claim return to work & accommodations
3. Advanced level training for internal claims manager to make a significant impact on the health of the employee and wealth of the organization
4. Transitional Leadership when moving to & from a 3rd party disAbility Management company
5. Sensitive claims & disAbility management of professional staff, such as HR, health team, and/or executives such as supervisors, managers, directors
Find Lucie at www.FournierHealth.com and https://www.facebook.com/fournierhealth/ and https://www.linkedin.com/in/luciemhfournier
Jo-Anne Richardson has almost a decade of experience managing a chiropractic office and educating patients on how chiropractic can allow your body to express optimal health. She is a Registered Holistic Nutritionist and holds a Degree in Communications. She loves to experiment with raw vegan recipes, loves to salsa dance, travel and learn new holistic health information to share tips with everyone who visits the office.