"I just bought $150 worth of groceries and then ordered takeout because I couldn't be bothered with the hassle of deciding what to cook."
Having just heard this from a dear friend, I am wondering, has this ever happened to you?
Don't fall victim to ordering high calorie takeout while you have a fridge full of perfectly good food!
Planning is the key to staying on track with your chosen lifestyle of eating a diet rich in whole foods. In a world full of fast food options and busy schedules, it is easy to get distracted from eating well. I have outlined some tips and tricks to stick to help us all stick to a healthy diet.
Half the battle of making nutritious meals is having all of the ingredients stocked in your pantry or refrigerator. Before you do your weekly grocery shop, sit down and make a meal plan for the week. At the same time, create your shopping list to reflect the ingredients that you will need for your week's meals.
Remember that flyers are your friend. Not only are flyers meant to point out the weekly sales, but they can also act as an inspiration for your meal planning. Flyers generally feature fruits and vegetables that are in season or are at least readily available and cost effective. Use the flyers to choose a star ingredient for each meal and then develop your meal plan around those star ingredients.
Leftovers are a time saver. Batch cooking is an easy way to ensure that you have leftovers on hand, so that on nights that time doesn't allow you to be in the kitchen to prepare a meal from scratch, you have something to easily heat up and have on the table in minutes. Try making a large pot of soup, stew or chilli to have in the fridge or freezer for quick, easy meals.
Try adding the following recipe to your meal plan next week.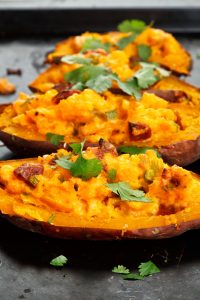 Loaded sweet potatoes
2 large sweet potatoes
1 small sweet onion, diced
1 jalapeño pepper (remove seeds for less spice)
1 tablespoon olive oil
1 tsp garlic powder
sea salt
Guacamole Topping
1 avocado
1 roma tomato
1/4 sweet onion, diced
1 jalapeño pepper, finely chopped (optional)
sea salt
juice of one lime
Preheat oven to 375ªF. Line a baking sheet with parchment paper. Cut sweet potatoes lengthwise and then thinly slice. Dice onion and jalapeño pepper. Add sweet potatoes, onion and jalapeño pepper to a bowl. Toss with olive oil, garlic powder and sea salt to taste. Bake sweet potatoes until tender.
While sweet potatoes are baking, prepare guacamole topping. Cut avocado in half and remove the large seed. Using a spoon, scoop out the flesh of the avocado into a bowl and chop into small pieces. Dice tomato, onion and jalapeño and add to the bowl. Add a pinch of sea salt to the avocado mixture and add the juice of one lime.  Mix well.
Serve the sweet potatoes and top with guacamole.
Serve the loaded sweet potatoes with a garden salad, and a protein of your choice (free-range chicken, wild-caught cold water fish, grass fed beef). Enjoy!
Jo-Anne Richardson has almost a decade of experience managing a chiropractic office and educating patients on how chiropractic can allow your body to express optimal health. She is a Registered Holistic Nutritionist and holds a Degree in Communications. She loves to experiment with raw vegan recipes, loves to salsa dance, travel and learn new holistic health information to share tips with everyone who visits the office.