Adhesive capsulitis, more commonly known as a frozen shoulder, is a common shoulder complaint that causes a limited range of motion in a person's shoulder in addition to pain and discomfort.
How it Frozen Shoulder Starts
Over time, frozen shoulder can cause problems with movement such as shoulder tightness, stiffness, or pain. Most people start noticing symptoms when they experience generalized pain in their shoulder and have difficulty performing basic activities and daily tasks. Typically, a frozen shoulder does not start suddenly, rather it is a gradual onset that you might begin to notice over the course of some time. This could be months or even years where it begins to show symptoms. A sudden, acute shoulder injury is usually not related to the  condition.
Symptoms of Frozen Shoulder
The primary symptom  is marked by limited range of motion. Patients will typically describe pain, discomfort, and tightness, especially when performing daily tasks. Patients may have trouble reaching or grabbing things above them, or issues when getting dressed.
Causes & Risk Factors
A frozen shoulder can be caused by many different potential risk factors or causes. It could be caused by what is considered normal usage and wear and tear. With normal usage, the tissues in your shoulder can become thicker over time, ultimately leading to scar tissue developing in the shoulder region. When tissues thicken, it can cause the shoulder to restrict, which causes the pain and restricted movement that people with a frozen shoulder experience.
There are also other causes that are not considered within normal limits. For example, having certain medical conditions can make you predisposed or at a higher risk of developing frozen shoulder. These conditions include things like diabetes, hormonal disorders and imbalances, or a weak immune system, all of which put you at an increased risk for inflammation in the body. Another common way that frozen shoulder arises is after prolonged bed rest or long periods of inactivity in a person's life. For example, if you've had recent surgery, injury, or illness, and have not been very active. This inactivity can lead to inflammation, and scar tissue build-up, which in turn can lead to frozen shoulder.
This condition is more commonly seen in women who are middle-aged, although this condition affects any person at any point in their life. It is most commonly seen in people ages 40 through 70. As previously mentioned, people who have been inactive for a large period of time or are recovering from a major surgery or illness are at greater risk for a frozen shoulder. Diabetes puts you at three times more likely chance of developing a frozen shoulder.
Diagnosis
If you are experiencing pain or discomfort in your shoulder, or difficulty performing certain tasks, we recommend seeking care from a medical provider. A medical professional will perform an exam and ask you questions about what you are experiencing. The physical examination can tell the doctor how much range of motion you have in your shoulder. Typically, doctors will ask you to perform a series of tasks or movements, so they can understand the symptoms you are experiencing.
X-rays or MRIs may be used to help confirm a diagnosis of a frozen shoulder, as well as to rule out other possible differential diagnoses. These x-rays can help a doctor determine if there's another underlying cause, such as arthritis, that is causing your shoulder pain, or properly diagnose the frozen shoulder.
Treatment of Frozen Shoulder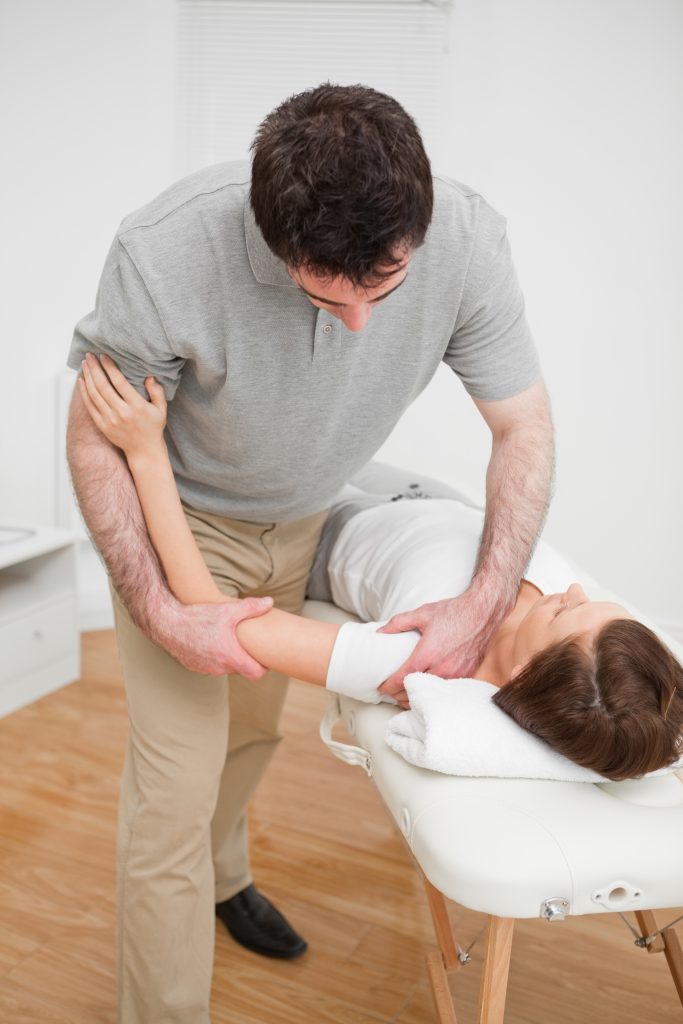 There are several different treatment options available to treat a frozen shoulder. Some types of anti-inflammatory medications can be used to manage inflammation and discomfort. Other mild treatment options include things like applying ice to decrease pain. Some other types of frozen shoulder treatments include:
Physical Therapy- Physical Therapy is a common treatment for people with this condition. This is because physical therapy can help stretch out the shoulder and regain some range of motion. Physical therapy could include in-office sessions or an at-home program, or a mixture of both.
Chiropractic Care- Seeking chiropractic care is a great option for treatment. Chiropractic care can be a great option to help reduce pain and improve the range of motion in your shoulder. It also can help speed up your recovery process. One technique used by chiropractors is known as the Niel Asher Technique. This technique involves manipulating the joints and muscles which can stretch it out, reduce your shoulder pain, and help improve the condition overall. There have been several studies that have shown positive results in patients with diagnosed frozen shoulders.
Surgical Options- Surgery is generally reserved when all other treatment options have been unsuccessful. Your doctor should be able to advise if he or she feels you will benefit from surgical interventions.
As a retired registered massage therapist, I've always been interested in health.  I grew up loving sports so that carried into my adult life in my chosen career paths and in my personal life. I now stay active with weight training, hiking and biking. My professional life has always been in health care. This has inspired me to seek out and adopt a life of natural health and wellness.