[mpc_icon_column preset="mpc_preset_10″ layout="style_3″ alignment="left" margin_divider="true" margin_css="margin-bottom:15px;" title_font_preset="mpc_preset_18″ title_font_color="#444444″ title_font_size="24″ title_font_line_height="1.4″ title_font_transform="uppercase" title_font_align="center" title="Fact Checking Review Process" title_margin_divider="true" title_margin_css="margin-left:7px;" content_font_preset="mpc_preset_1″ content_font_color="#6b6b6b" content_font_size="19″ content_font_line_height="1.5″ content_font_align="center" content_margin_divider="true" content_margin_css="margin-bottom:0px;margin-left:7px;" mpc_icon__disable="true" mpc_icon__icon="etl etl-hotairballoon" mpc_icon__icon_color="#f7f7f7″ mpc_icon__icon_size="24″ mpc_icon__background_color="#2a7571″ mpc_icon__border_css="border-radius:999px;" mpc_icon__padding_css="padding:10px;" mpc_icon__margin_divider="true" mpc_icon__margin_css="margin-top:-6px;margin-bottom:20px;" mpc_icon__hover_icon_color="#ffffff" mpc_icon__mpc_tooltip__border_divider="true" mpc_icon__mpc_tooltip__padding_divider="true" mpc_divider__disable="true" mpc_divider__width="10″ mpc_divider__align="left" mpc_divider__content_padding_divider="true" mpc_divider__content_padding_css="padding-top:0px;padding-right:0px;padding-bottom:0px;padding-left:0px;" mpc_divider__lines_color="#dddddd" mpc_divider__padding_divider="true" mpc_divider__padding_css="padding-top:3px;padding-bottom:3px;"]The Family Health Advocacy team is committed to delivering content that adheres to the highest standards for content accuracy and reference. Articles with the "Fact Checked" stamp will adhere these standards and will be reviewed using guidelines from the American Medical Writers Association (AMWA) and all the reviews conducted are subject to the AMWA code of conduct https://www.amwa.org/page/Code_of_Ethics in line with the medical industry's best practices in health communication.
Our medical review team will ensure the following criteria is met:
1. Is it original writing? Does the article contain significant portions of plagiarized materials?
2. Are the main concepts well and clearly defined?
3. Are the articles central tenets backed by adequate evidence?
4. Are there any gaps or inconsistencies?
5. Is the writing clear and easy to understand?
6. Does it advance knowledge?[/mpc_icon_column]
[/mpc_modal]
Watermelon can be enjoyed in so many different ways. You can slice it, smoothie it, carve it, grill it, dunk it, drink it…Mmmm.  Are you salivating yet? If you aren't doing it already, it's time to have some fun with watermelon. This melon allows us to be both creative and adventurous. In addition, there are many health benefits of watermelon to go along with it. 
Benefits Of Watermelon
Watermelon is filled with nutrients, minerals and water. It contains few calories, is delicious and refreshing. It's a great dietary source of two powerful plant compounds; lycopene and citrulline.
I once dreaded the thought of cutting bulky watermelons. Then I learned an easy technique to cut and chunk a watermelon in just a few minutes.  Before you turn your head to watermelon and its many health benefits, watch this video and let me show you how easy it is to cut a watermelon. By the end of the video you will be running to the store to grab this iconic summer fruit to try this technique yourself.
Watermelon has a mouthwatering flavor with no added sugar. Add to that the nutritional value and you have yourself a fruit your ready to work with! Here are some things watermelon can help with: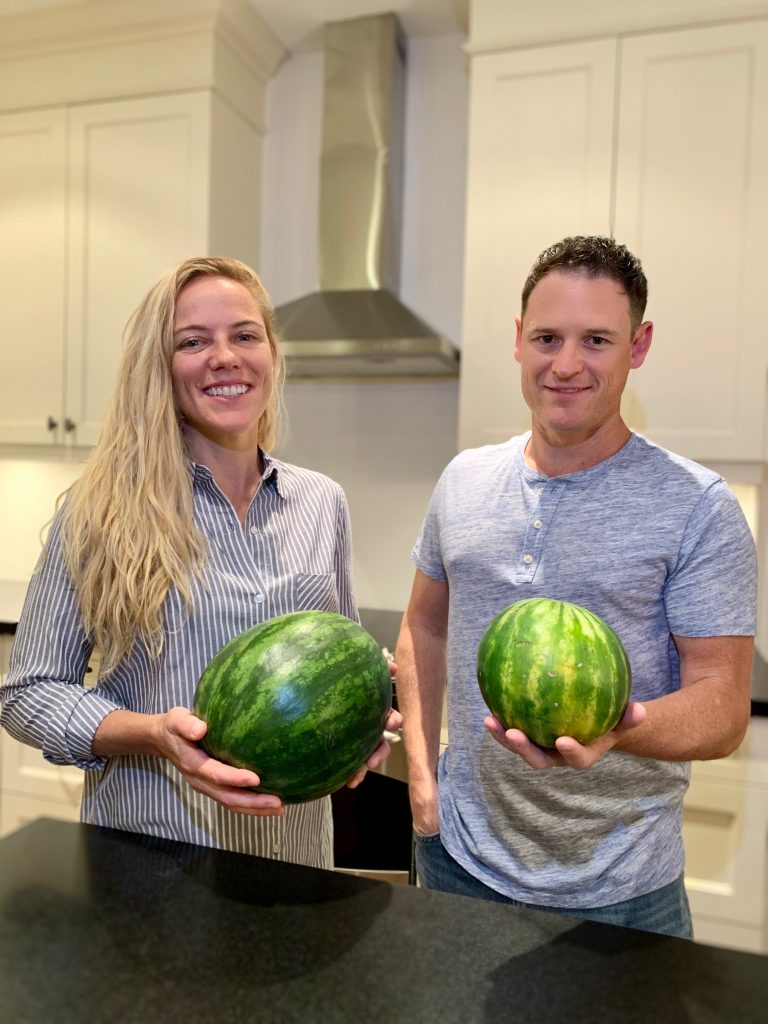 Nutritional Value of Watermelon
The health benefits of watermelon are vast. From enhanced recovery to staying hydrated.  In addition to disease prevention, providing vital nutrients, and many other benefits.
The beneficial elements of watermelon are mainly obtained from its unique mix of;
Nutrients

Minerals

Vitamins

Organic compounds
Notable vitamins include:
There are also a wide variety of phytonutrients and carotenoids including citrulline and lycopene.
Watermelon is low in sugar and high in nutrients and flavor! In comparison to other fruits this ratio is favorable.  
For those who are counting, watermelon is also low in calories. Only 46 calories per cup to be exact. Compare that to bananas which are 150 calories per cup of sliced or 200 calories per 1 cup of mashed banana.
On the note of calories, let's be clear, the quality of food and what you are eating is far more important than the calorie count. A Hersey chocolate bar of 200 calories is far different then the 1 cup of mashed banana.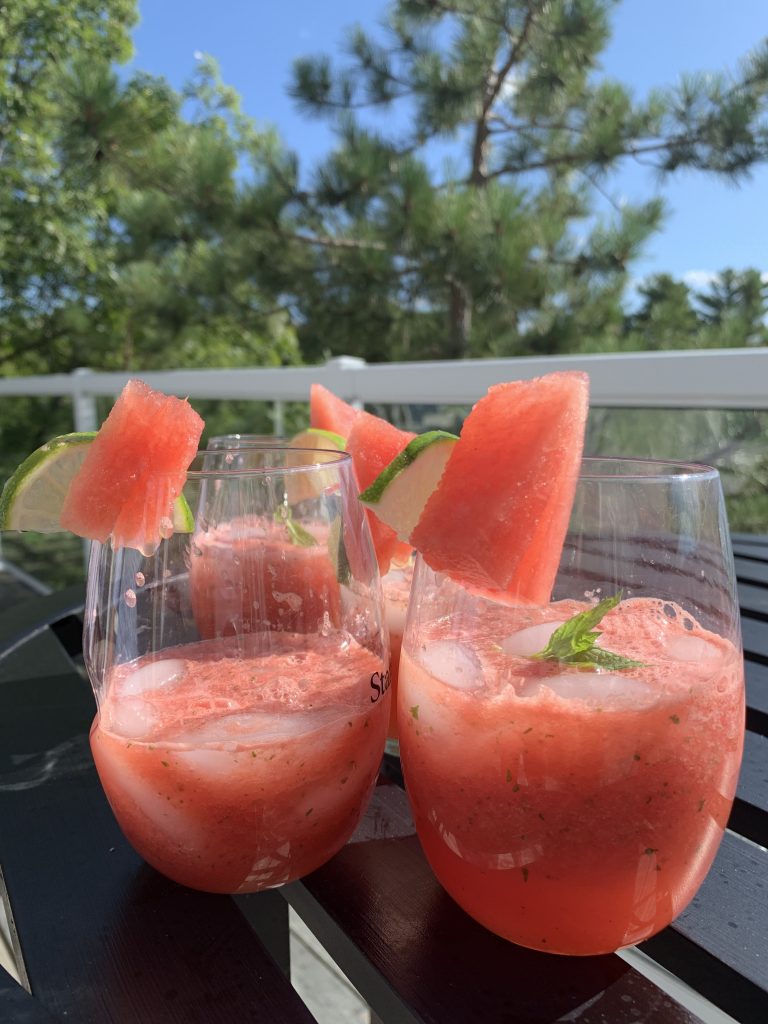 How Many Carbs in Watermelon?
With 92% water and 8% carbs, watermelon contains little to no protein or fat and is very low in carbs.  So that equates to about 15-22g of carbs per slice depending on the size.
The Take Home
This delicious and refreshing fruit contains many vitamins, nutrients and minerals. Namely Citrulline and Lycopene that deliver many health benefits. 
Now that you know that watermelon is bursting with health benefits and how to easily prepare…it's time to get slicing!