Alternative medicine and therapies are growing in popularity. As more research findings emerge, there is growing proof that natural remedies are an effective means of disease prevention and reversal. For a great example, let's take a look at how the Chaga mushroom benefits your health.
Chaga Mushroom Benefits:
Stress
Fatigue
Anxiety
Depression
Chaga mushrooms are known for their ability to act as an adaptogen in the body. An adaptogen is a substance which assists the body's ability to combat the effects of stress and disease.
Furthermore, it can promote healthy sleep cycles. Chaga can also aid in strengthening the immune system, improve mental clarity, and regulate various other cycles in the body.
Reports indicate that medicinal mushrooms including chaga are a source of anti-oxidants and contain compounds which are:
Anti-cancer
Anti-inflammatory
Anti-microbial
Anti-diabetic
Chaga has been found to have positive anti-cancer effects on breast and colorectal cancer cells, and aids in the protection of DNA damage.
Chaga mushroom health benefits - Health, Stress adaption, Healing, Renewal, Life Extension
What Is Chaga?
Chaga mushrooms are one of those alternative therapies that are proving to be effective and are starting to get some much deserved attention in the world of alternative therapies.
Chaga mushrooms are medicinal mushrooms native to the forests of Finland, Siberia, and North America and thrives in cold climates.
Although it grows most commonly on birch trees, it may also be found growing on:
Ash trees
Beech trees
Elm trees
Ironwood trees
Maple trees
In fact, you may have even seen it growing in the forest but didn't recognize it. It has a rough looking outer surface that appears to be burnt and dark in colour with a yellow-orange core.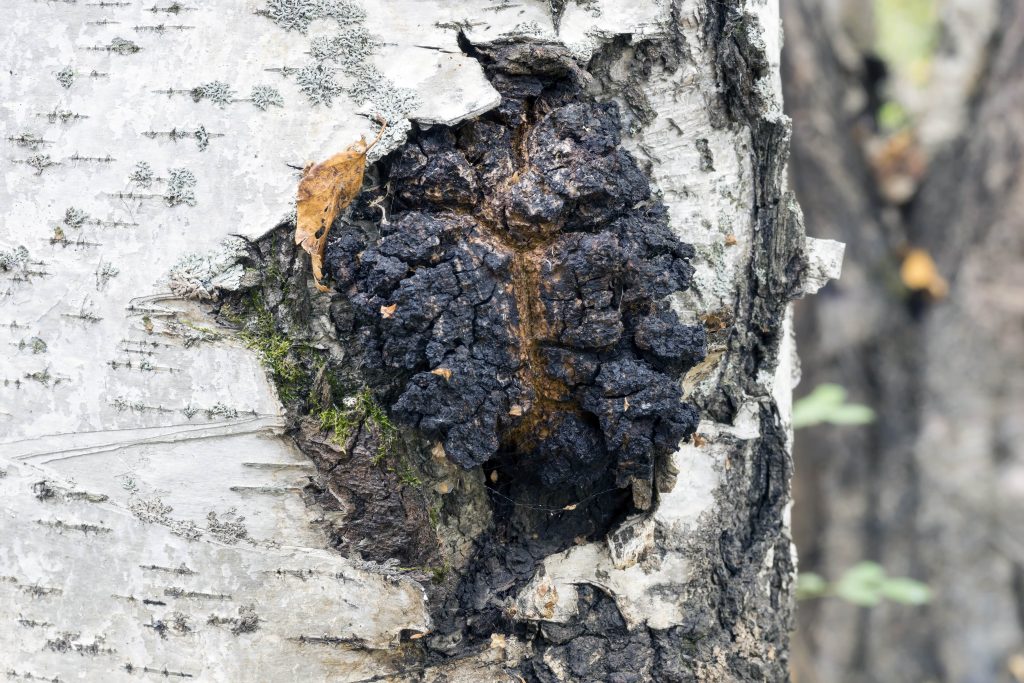 Enhanced Immune System
An enhanced immune system is better equipped to efficiently deal with:
Cancer cells
Bacteria
Viruses
Inflammation
Greater still, it provides the human body with a better opportunity to prevent disease formation.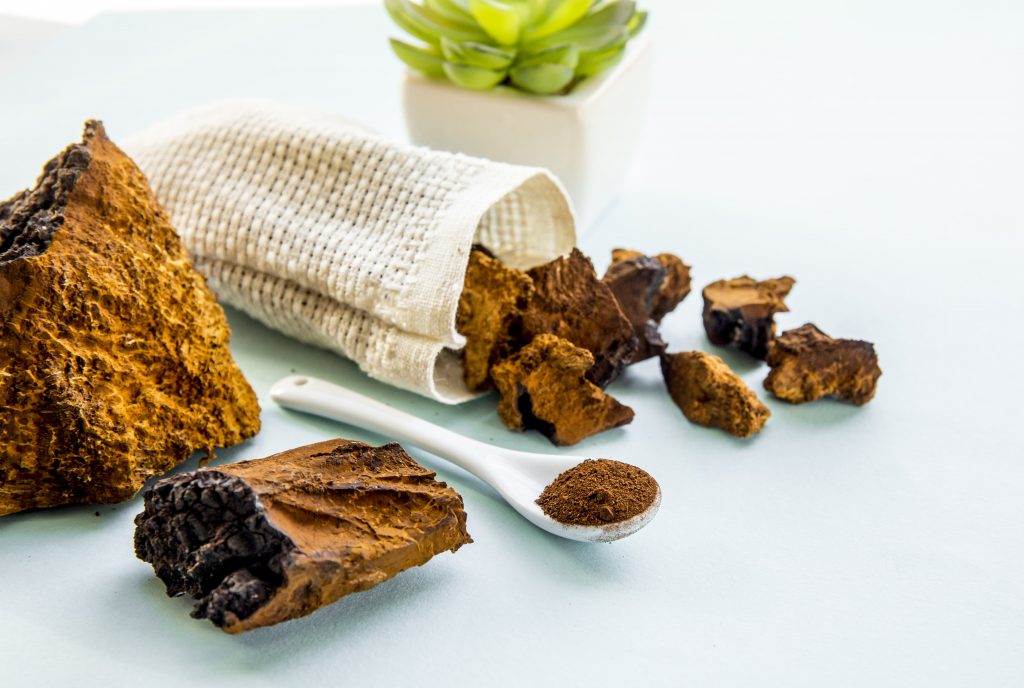 Chaga And Cancer
Chaga has been used to treat cancer for centuries in Russia and Baltic countries. It has been found that chaga mushroom extract can induce apoptosis of human colon cancer cells. These findings have since been confirmed in controlled lab experiments.
It's believed that one of the main active ingredients in Chaga is a potent antioxidant called superoxide dismutase.
Superoxide dismutase is known as a liver cleanser, a cell membrane protector and a longevity enzyme. Furthermore, antioxidants are well known for their importance in disease prevention, and chaga is no exception.
How To Take Chaga
Due to chaga's growing popularity, it can now be easily found at your local health food store and can be sold as:
Dried powder
Tincture form
Capsule
Dried chaga can be consumed in various ways including:
Steeping it as a tea
Grinding it to consume as food
Ingesting it as a tincture
Although, chaga tea is the easiest way to introduce into your diet.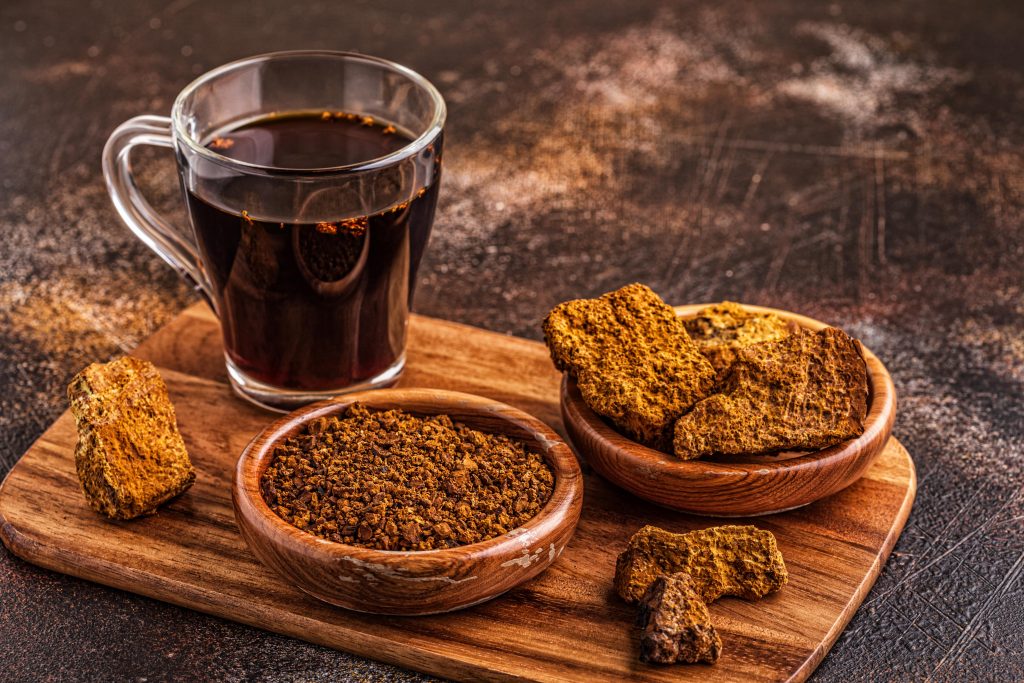 Chaga Tea
To make a chaga tea, first place small chunks of chaga, or ground chaga in a pot with cold spring water.
Next, let the chaga sit in the water for up to one hour to begin the extraction process.
Begin to heat the water, being caution that the water doesn't reach a full boil.
Lastly, let the chaga simmer for one hour before enjoying.
The mixture can then be strained and consumed hot or cold. Ideally, the tea should be consumed on an empty stomach before meals. Three to eight cups of chaga tea can be safely consumed daily.  Also, chaga tincture can be added to a small amount of water and swallowed.
Important Note
A known contraindication of chaga is that it can also act as a blood thinner. Therefore, if you are on blood thinners, chat with your natural health practitioner to be sure it is safe for you.
Jo-Anne Richardson has almost a decade of experience managing a chiropractic office and educating patients on how chiropractic can allow your body to express optimal health. She is a Registered Holistic Nutritionist and holds a Degree in Communications. She loves to experiment with raw vegan recipes, loves to salsa dance, travel and learn new holistic health information to share tips with everyone who visits the office.