We are in a culture of technology which means if we are not constantly staring at our computer or laptop screens then we are staring at our phones up close not allowing our vision to relax.  But what does this do to our eyesight? Well, the simple answer is that we are not allowing our vision to relax which is not natural to the human eye.  You may or may not have migraine headaches, or headaches but you may have sleep problems, or visual problems because you're not viewing sunlight early in the day. Challenges with your eyesight get worse as you age but there is even an epidemic of myopia in young people today. If your behaviors around vision aren't right, you cannot expect to have good, healthy eyesight for a long time, meaning throughout your life, and if your vision is already poor many of these exercises, that we'll describe, perhaps all of them will improve your vision to some degree. And, if your vision is starting to go then doing these exercises is likely to really enhance the quality of your vision.
Just looking up from your computer screen is not going to solve the problem. You need to set aside time for some intentional behaviors that will help your vision.
You need to go to a window to look out at a distance. Ideally you should open the window because windows filter out a lot of the blue light from the sun that you want during the daytime.  Actually, 50 times less gets through the window.  What is better is to get outside and relax your eyes, look out at the horizon. This will allow your eyes to go into panoramic vision, letting your vision expand.  The goal is for the lens mechanism to be very elastic. You don't want to get stuck in that configuration of looking at things up close. Accommodation is a wonderful feature of your visual system, but you don't want to push it too hard.  Getting outside, with all its many benefits will not just lighten the load on your mind or allow you to think about other things but it will maintain the health of your visual system. In other words, you want to exercise these muscles and that involves the lens moving and getting kind of thicker and relaxing that lens. The relaxation of the lens is one of the best things you can do for the musculature of the inner eye.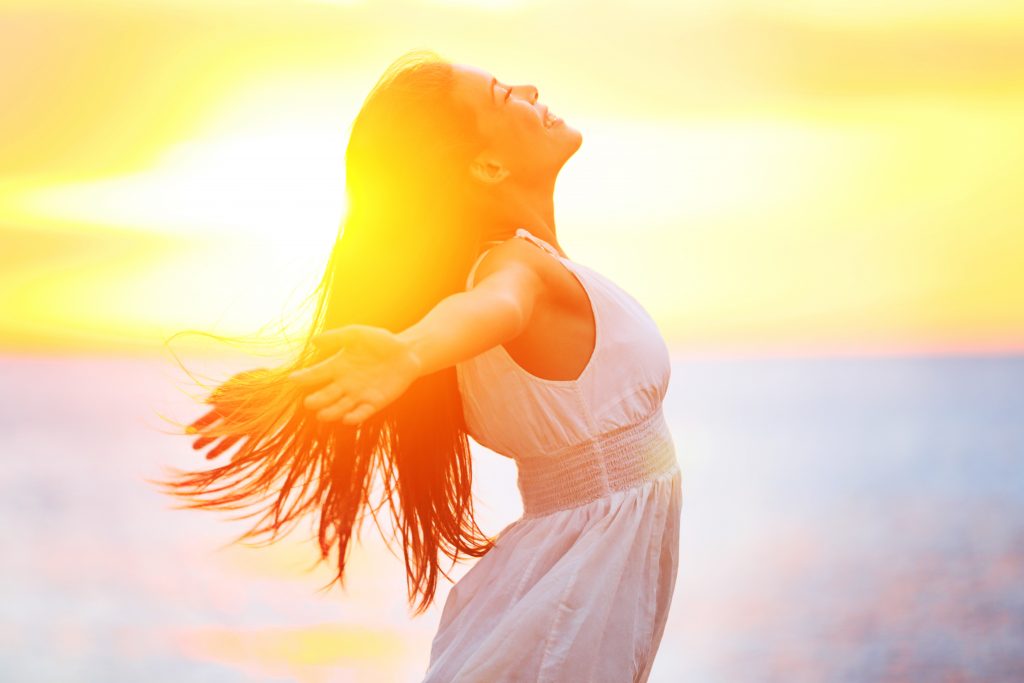 You might be surprised but for every 30 minutes of focused work you probably want to look up every once in awhile and just try to relax your face and eye muscles including your jaw muscles because all these things are closely linked to brain stem. Allow your eyes to go into panoramic vision where you're not really focused on anything and then re-focus on your work.
At least every 90 minutes of looking at things up close or even if you're looking at a screen or watching a movie you ideally would have at least 20 probably more like 30 minutes of being outside ideally. But if you can't be outside then spending that time exercising non-up-close vision. You might think "that's impossible how am I supposed to do that when I'm at an office?" Try to get to a window or get outside if you can do it safely, get onto a balcony and just let your eyes relax.
You can take a few minutes each day or maybe if you don't do it each day, every third day or so, and just visually track a ball whether its moving in an infinity symbol or sometimes it can be more of a sawtooth shape.  Try changing the speed that you're following the cue and sometimes the cue that you're following can be dilating and contracting. This is going to keep the extraocular muscles conditioned and strong and allow you to have a healthy smooth pursuit system. There are some programs online, you can look up smooth pursuit stimulus.  You could do this with a pen or someone else could hold a wand. Remember the brain follows the eye. It follows the movements of the eye and then all the neural circuits within the brain must cope with changes and smooth pursuits. So, while it's preferred that you get out into the real world to experience smooth tracking of visual objects like going to hockey game and trying to track the puck or watching a tennis match, it can still be done with 5 to 10 minutes, three times a week.
Practice accommodation for a few minutes maybe every other day by just by bringing an object up close, you'll feel the straining your eyes, move it out, you'll feel a relaxation point, move it past that relaxation point where you will have to do what's called aversion eye movement to maintain focus on that location as it moves out, bring it back in.  There are a lot of videos online that are geared toward improving the extraocular eye muscles.  This is a lot like the visual training that's done post concussion to try and repair some of the balance, motor, visual and cognitive aspects of the brain. It's really worth preserving your vision and if you're starting to have vision problems then these exercises can help prevent further damage.
https://pubmed.ncbi.nlm.nih.gov/28666215/
https://www.ncbi.nlm.nih.gov/pmc/articles/PMC1357404/
As a retired registered massage therapist, I've always been interested in health.  I grew up loving sports so that carried into my adult life in my chosen career paths and in my personal life. I now stay active with weight training, hiking and biking. My professional life has always been in health care. This has inspired me to seek out and adopt a life of natural health and wellness.