This meal using zucchini lasagna noodles is proof that any recipe can be swapped out for healthy ingredients and still be delicious and satisfying. This means you never need to miss out on your favorite comfort foods again. Just by making so minor changes such as;
You can reduce your inflammation and help ward off disease.
Special Notes
It is recommended you use a vegetable peeler or mandolin slicer to slice zucchini thin and keep the pieces uniform.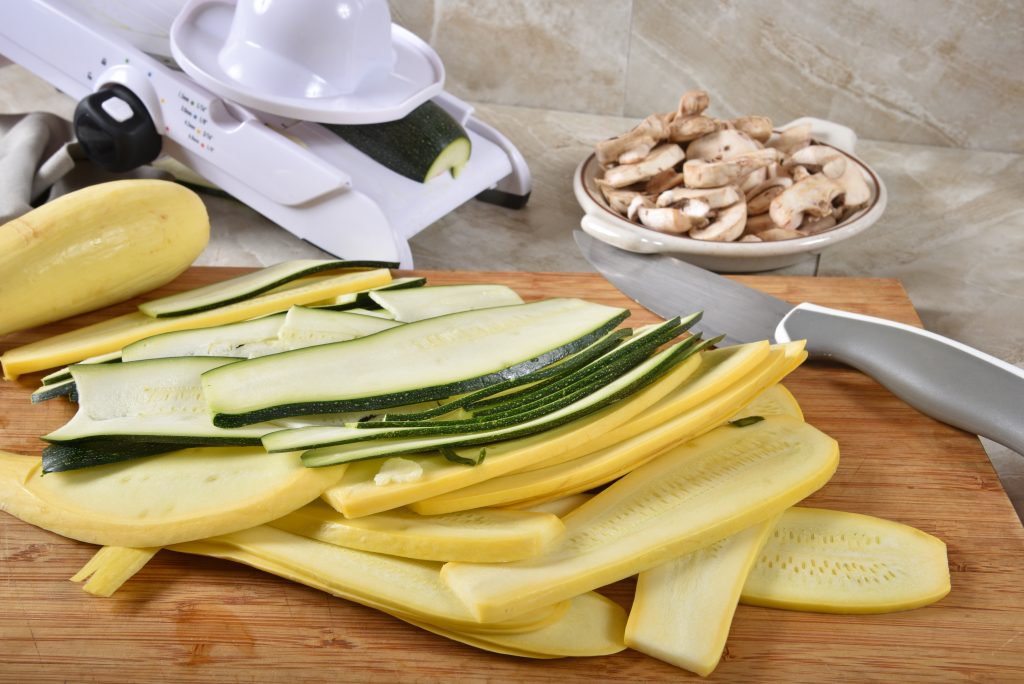 I personally prefer the mandolin to make the zucchini lasagna noodles or else it will take a very long time to get the strips prepped and ready to go.
Ingredients
4 medium zucchini, sliced thin
1-2 Tbsp olive or avocado oil
1 egg
1 ½ cups sugar-free organic marinara sauce
1 cup part-skim ricotta or Daiya vegan cheese – mozzarella, cream cheese,…
Sea salt
1 Tbsp chopped basil, divided
Coconut oil cooking spray
½ cup shredded parmesan (or Daiya option)
Directions
Preheat the oven to 375ºF and lay out 3 sheets of paper towels. Next, lay out your zucchini slices, and salt them well. Let them sit and dehydrate as you prepare the/your sauce.
In a large ceramic/stainless/iron skillet, heat olive or avocado oil over medium heat. Add the ground turkey/sausage by breaking it up into small pieces and cooking until browned. Next, add the marinara sauce to the skillet and set the heat to low. Let the sauce simmer.
While your sauce is simmering, mix the ricotta, egg, and 1/2 tablespoon chopped basil in a small bowl until well combined. Set aside.
At this point, your zucchini slices will look like they're covered in water. Wipe them off and press down firmly with a paper towel. Try and remove as much moisture as possible on each slice.
Spray an 8×8 baking dish with cooking spray and start assembling your lasagna. Start by laying down 5 or 6 zucchini slices in a row at the bottom of the baking dish. Next, top with 1/3 of the sauce and a dot containing 1/3 of the ricotta mixture. Repeat the layers, alternating the direction of the zucchini slices. Finish with a layer of zucchini on top followed by the parmesan cheese.
Cover your dish with aluminum foil and let your zucchini cook for 50 to 60 minutes. Next, sprinkle with the remaining chopped basil.
Lastly, ENJOY!
Makes 4 servings