Do you struggle with the 3 pm energy slump? Find yourself thinking, should I have another cup of coffee…? I wonder if there's any birthday cake left in the staff room…? or where's that darn change for the vending machine…? Research shows that
eating a combination of complex fibre with protein and healthy fats every three or four hours, helps to maintain normal blood sugar level, gives you an energy boost, and conquers your tummy rumble
.
Here are some well-balanced snacks that are fun, portable and will keep you satisfied until your next meal.
1. Energy bars are everywhere these days. They are quick, no bake, easy to make ahead and can be left at room temperature. Most recipes call for a combination of
ground nuts and seeds, mixed with peanut or almond butter and your choice of cranberries or raisins
.  My favorite recipe switches out the nut butter for ground pitted dates. 2.
Avocados are good for you fats
, nutrient dense and fibre rich. Try an avocado in the half shell stuffed with lightly salted or spicy sunflower and pumpkin seeds. 3. Hummus doesn't have to be bland and boring anymore.  Think Mediterranean! Try various recipes like
sundried tomato and basil hummus
for a taste of pow! Spread on multi-grain or high fibre crackers. 4. Kukoo for cucumber. 
Thick slices of cucumber double as a sandwich with cheese, lean meat or peanut butter filling
. 5. Who loves goat cheese?  Goat cheese chunks rolled in ground nuts or granola are a perfect balance of creamy and  crunchy pop-in-the mouth snack. 6.  I can't say enough about goat cheese! Try
rice crackers or thin wholegrain crisps, spread with goat cheese and then topped with raisins
or better yet chopped dates. 7.
Change it up
. The traditional apple or banana slices with a nut butter always tastes great, but how about slices of fresh pear, pineapple chunks, or mango. 8. Take the road less travelled. Pair up delicious
dried fruits like chopped dates, figs, prunes or apricots with nut butter
, or wait for it…hummus! 9. Go Greek. Top your low fat Greek yogurt with ground flax, hemp, or chia seeds, sprinkle with some
gluten free oats or granola, and add berries of your choice
. 10. Another satisfying fibre and protein rich finger food is
roasted chickpeas
. Add tons of flavour with some curry, paprika, garlic or chili powder…or for a touch of sweetness, while still warm toss with a half teaspoon of honey or pure maple syrup, and a dash of cinnamon. 11. Pair up various
fresh cut veggie sticks
, (or home baked veggie chips) with a protein dip made with light ricotta, basil, parsley, oregano and a touch of lemon juice. Your taste buds will thank you!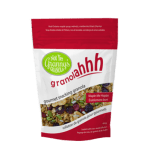 12.
Not Yer Granny's Granola
– packed with healthy fats and loaded with nutrients, this is the perfect snack to power you through the rest of your day! Yes, we've all been there.  Sometimes mornings are a rush, so don't add more stress to your day. Keep a stash of yummy, accessible snacks in your car, bag and desk…that way you won't be craving birthday cake at the office. Plan for success. Your daily energy requirements are important. __________________________________
Blog by Guest Author: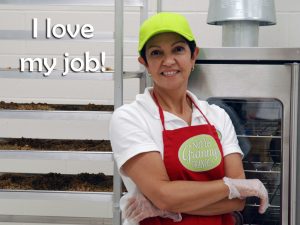 Fran Kruse
is the master granola baker and creative force behind
Not Yer Granny's Granola
, Canada's only gourmet snacking granola. Launched in 2013 she re-invented the dry, bland 1960's, 'hippie' cereal into wholesome snack called
Granolahhh
. Packed with healthy nuts, pumpkin and sunflowers seeds, and double fruits fans enjoy Granolahhh straight out of the bag, at the office, cottage, outdoor fun and even give it as gifts. As a member of Canadian Women in Food she is proud that her products are handcrafted by real people, not factory made. Using non-GMO ingredients and natural Ontario maple syrup, she is committed to providing preservative free, convenient 'munching made better' options for busy, active people. You can contact Fran at:
fran@notyergrannysgranola.com
B.705-792-9826
www.notyergrannysgranola.com
www.facebook.com/NotYerGrannysGranola
www.instagram.com/notyergrannysgranola